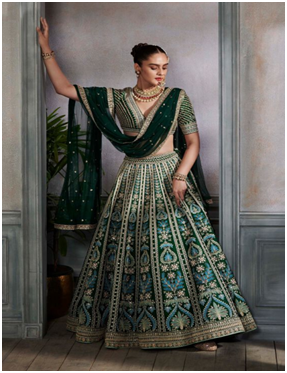 Just like every other hue, the colour red also holds special meaning in the Indian wedding culture. Red is usually associated with prosperity, new beginnings and passion in Indian culture. It is also related to  Goddess Durga, who symbolises feminine power and new beginnings. However, the contemporary Indian bride is now experimenting with different colours which are equally bright and cheerful. This does not mean they are ditching the reds entirely; they are adding it to their wedding wardrobe more subtly.
If you are a bride-to-be who is warming up to the idea of non-red wedding outfits for girls, then this guide on perfecting the process will surely come in handy. Read on to learn more about the other colours you can choose and how to style them.
Shades Of Pink
A part of the red colour family, pink should be on your radar as you go on to select your wedding lehenga. From pastel pink to bright hot pink, this colour has a diverse range that you can pick from. If you plan to have a day wedding and love to be on the minimal end of trends, then a pastel pink lehenga such as the Ishtar Lehenga from designer Anita Dongre's collection is a great choice. It features gotta patti, sequins and French knots, which gives it a regal look.
Alternatively, if you love to keep up with the trends and want to adorn a bright shade on your wedding day, you can take inspiration from this stunning hot pink Maheen Lehenga. This lehenga is a perfect combination of contemporary style with traditional Indian craftsmanship and can easily be styled with your gold jewellery set.
Stunning Neutrals
Neutral ensembles are an excellent option for day wedding ceremonies. Creams, pastels and whites have a light feel that shows amazingly in pictures and expands your horizons regarding accessories and jewellery. Neutral lehengas such as this one in cream colour redefine elegance and luxury. The regal silk attire features unique craftsmanship in the form of gold gota patti hand embroidery and anchored French knots. If you wish to weave in traditional colours into your clothing, you can opt for red or bright-coloured dupattas for your bridal lehenga.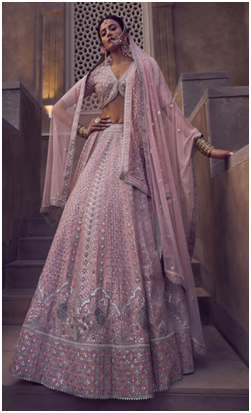 Green Dream
Green colour signifies a fresh start and is an amazing colour to incorporate into your wedding wardrobe. The colour is also great to be worn for pre-wedding festivities that you are set to celebrate with your loved ones. The Reyah Lehenga in sage makes for the most stunning and functional ensemble for a Mehendi function. It has subtle prints and minimal embellishments so that you can enjoy the functions more freely.
If you want to opt for a green lehenga for the wedding ceremony, then this bridal Rooma Lehenga Set in dark green will fit the bill. The set features hand embroidery which is enhanced with dori, pearls and sequins.
While the beauty of the red colour remains unmatched, these other shades also set the bar equally high for bridal attire. If you wish to incorporate traditional hues into your wedding attires, you can opt for subtle features such as dupattas and jewellery. Now that you have this guide at hand get ready to slay non-red lehengas on your wedding day!